Holiday Home Fiji (Golden Palms Retreat Private Villa)
Golden Palms Retreat can be found just a short two hour scenic drive from Nadi on the Coral Coast at Pacific Harbour, where there is always something for everyone!
Golden Palms Retreat is a self contained villa featuring 5 bedrooms, 3 bathrooms, open plan living and dining room plus a swimming pool and we are pet friendly!
This beautiful villa is just a 10 minute walk to Pacific Harbour beach, local restaurants, cafes, boutiques, golf course and the local marina.
Pacific Harbour is well known not only for its cultural activities such as traditional massage, yoga, cooking classes, fire walking, story telling, dancing, traditional Lovo cooking, mat making and visits to an ancient village, but also for its outdoor adventure sports such as scuba diving, snorkeling, game fishing, surfing, kayaking, canoeing, water-skiing, jet-skiing, bush walking, zip lining, horse riding and of course golfing. There is also a trip up the Navua River to a waterfall and natural swimming pool.
Furthermore, Pacific Harbour also contains a bank, post office, garage, car hire services ($50p.day) as well as local fish and vegetable markets and mainstream supermarkets.
The Villa
The villa is situated next to a beautiful lake and is surrounded by lush tropical foliage and fruit baring trees such as mandarin, lemon, coconut, pawpaw, bananas and passion fruit.
The villa is fully wrapped by a gorgeous veranda allowing every room to feel connected with the natural outdoor surroundings. The interior has been designed for comfort and tranquility containing a mahogany theme throughout with accents of turquoise and gold.
Meditation, Yoga groups and sporting groups are welcome (vegetarians catered for). Child minding for families can be provided.
Each room of this wonderful retreat boasts artwork and statues Buddhist in style – inviting a sense of calm and relaxation.
Secluded, yet close to all conveniences including shops ,supermarket restaurants, post office,  bank,  garage, and resorts.
Only 50 meters from the lake so popular for its canoeing, kayaking, water skiing and fishing.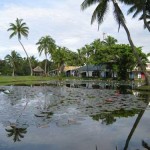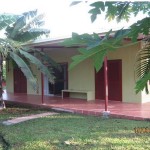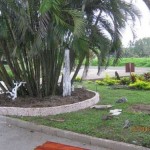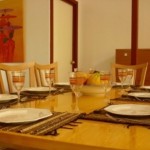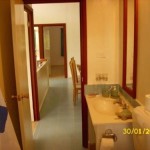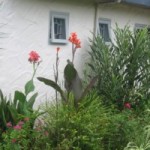 Your house is beautifully laid out, the bedrooms looked sensational, and it provided all the facilities we needed for our holiday. Pacific Harbour is a hidden jewel of a location, with river, reef and all the shopping facilities so close.
I had the pleasure of staying at the Golden Palms Retreat and both the accommodation and the setting was fantastic. The house is right next to a lake and the estate is very green and rich in fruit bearing trees.
We had an amazing time at The Golden Palms. It met all of our expectations and we got to see the real Fiji, meet the neighbours and locals etc; We loved Pacific Harbour and it has everything you need.
It was a fabulous stay at your new villa at Pacific Harbour on the Coral Coast. I found my stay very rewarding. Your villa at Cook Place is exceptionally well located with cool breezes coming off the lake.
The Golden Palms Retreat Villa
Around The Villa - Pacifi Harbour Tour