Kitchen
Fully equipped including cooking utensils, cutlery, dishwasher, stove, microwave, oven, electric jug, toaster, juicer, ice cream maker, fridge and deep freeze.
Bedrooms
Five bedrooms, each with queen size bed, wardrobe, Chest of drawers and mirror, Buddhist stature and painting.

 Lounge room
Open lounge dinning room with 3 seating and 2 single lounge suit. Five dinning stools. coffee table and TV plus cabinet.
Lounge room can be cleared for Yuga classes, Meditation classes or cookery classes and seminars.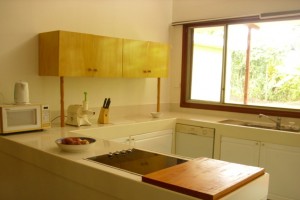 Bathroom
Two internal bathroom, shower and toilets. one external bathroom, toilet and shower and one pool shower.
 Verandah
Dinning table for 10 is available.
Swimming Pool
An amazing 30sq.m swimming pool. The outdoor swimming pool is built of pale blue tiles, pebbles surround with timber decking.
Laundry
Washing machine and ironing facilities available.
Undercover parking
For 3 cars and touring bus
Internet access
Internet access is available
Bicycles
2 bicycles provided
 Fishing rods
2 fishing rods provided